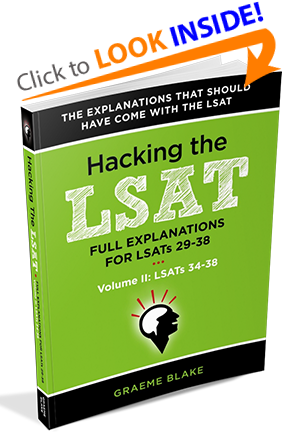 Click for PDF Excerpt
Full Explanations for LSATs 34–38
by Graeme Blake
ISBN-10: 0988127911
ISBN-13: 978-0988127913
Price: $20.00
Visit Amazon or our bookstore to purchase a paperback copy of this book.
Hacking The LSAT is the first book to offer good, easy to read explanations for every LSAT in The Next Ten Actual, Official LSATs (LSATs 29–38).
Often, there are LSAT questions you just can't figure out. This book helps you read the minds of the test-writers, and see why each answer is right or wrong. You'll also find step by step diagrams for every Logic Game, and you'll see the conclusion and reasoning every argument in the Logical Reasoning Section.
Whether you are a beginner or an advanced student, this book helps you fix your mistakes, so you won't make them on test day. It's an essential part of your LSAT prep arsenal.
Books like the Powerscore Bibles give you general guidance, but this book will guide you through *every* individual question. Using Hacking The LSAT is like studying with an elite LSAT tutor, for a fraction of the price.
Note: These explanations are a supplement to the LSAT. You'll need your own copy of The Next Ten Actual, Official LSATs to use these explanations. Hacking The LSAT comes in two volumes. This is volume II, covering LSATs 34–38.