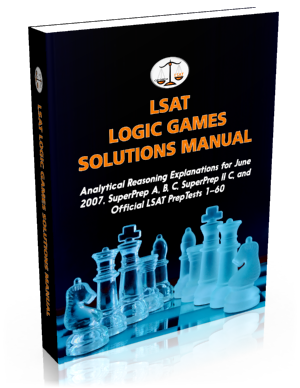 Click for PDF Excerpt
Analytical Reasoning Explanations for June 2007, SuperPrep A, B, C, SuperPrep II C, and Official LSAT PrepTests 1–60
by Morley Tatro
ISBN-10: 0692701575
ISBN-13: 978-0692701577
Price: $35.00 $30.00
Visit Amazon or our bookstore to purchase a paperback copy of this book.
Perfect Practice Makes Perfect
The Logic Games are frequently cited as the most challenging and/or most intimidating aspect of the LSAT. They are also frequently cited as the most learnable portion of the exam. Without sufficient training, the average college graduate is ill-equipped to accurately answer the questions within the allotted time. In contrast, the Logical Reasoning and Reading Comprehension sections test skill sets which are readily used in undergraduate coursework, and they are typically easier to grasp in the initial stages of preparation. As the games have evolved over the years, they have become increasingly formulaic. With few exceptions, most recent games hinge on at least one of three recurring themes: ordering, grouping, and assignment. By practicing with official LSAT Logic Games, and consistently honing your technique, you can greatly improve both the accuracy and the speed with which you complete them. The solutions presented in this book illustrate that flexibility in solving the games is not only helpful, but also sometimes necessary. This book is the perfect complement to your Logic Games practice.
Includes
Logic Games explanations for the free June 2007 LSAT
Logic Games explanations for all three SuperPrep tests: A (February 1996), B (February 1999), and C (February 2000)
Logic Games explanations for SuperPrep II, test C
Logic Games explanations for the first 60 numbered LSAT PrepTests
Diagramming key
Categorization system explained
Please note: this book does not contain any actual LSAT questions. They must be purchased separately.